05 Jul

From Desperation to Hope
Patrik remembers lying awake in the hospital detox, wondering how he'd fallen so far.
"Growing up was fine," he says. "I graduated high school with high grades, went on to college, became a telemarketer, started making a lot of money and worked my way up to management."
But, all the while, he was battling an addiction to alcohol, exacerbated by the stress of his profession. "Life became all about getting numbers and approval," he says. "I had a lot of issues with anxiety."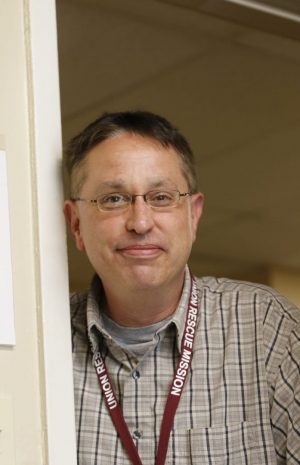 Eventually, his drinking began to take a toll on his work and his physical health. "It got to where I didn't go to work," he says. "Then I wound up in the hospital. I was in bad shape."
When he was released, the hospital referred him to our Emergency Shelter, where he learned about our New Beginnings Program. Though he didn't have a relationship with God, Patrik decided it was for him. "I was desperate for anything different," he says.
Through program components, staff and volunteers, Patrik was introduced to the Lord. "As I read the Bible, listened to preachers, and worked with my case managers, the Lord slowly filled my heart," he says.
Patrik has also healed emotionally, learning to forgive himself just as the Lord has forgiven him. "I'm now in a good place physically, mentally, and spiritually," he says.
He has now graduated from the program, and is working as a sales representative for a water treatment service. He now lives at an Oxford House with other recovering addicts because, as he says, "I'm going to continue building my strength and improving my relationship with God."
Because of your support, Patrik, and others like him, find help and hope when they walk through the doors of the Union Rescue Mission – at Easter and always. "The Mission has completely changed my life. I went from being in despair and lost to having purpose."
To read this issue of URM Today, click here to download.
Help other people like Patrik…
Patrik's story of hope and healing is inspiring. Our New Beginnings Program exists to help other men in the Wichita area find healing. Will you help provide this help to others?
DONATE TODAY